Social Media Marketing Nashville TN
Serving Brentwood, Franklin, TN & Beyond

With the expansion of marketing to include a vast number of online marketing channels, Leading Edge Communications hesitates to call itself solely an advertising agency or marketing firm considering the number of forums in which it promotes clients. Leading Edge is a solution-based company that has established dedicated specialized teams to support our Nashville area customers. Examples include our customized web design, branded printed materials, graphic design, search engine optimization, and social media marketing teams. Social media matters. Customers go there to find out about your business and see what others are saying about your company. Google and Bing care about social media and rank companies higher that send out social signals. In most cases, business owners are so busy working on their actual business, they don't have the time required to devote to social media.
Let our Nashville-based expert team manage your business social media accounts.
Social Media Management Packages
Are you using Social Media to market your business? If so which platforms do you use? More than just a fad, Social Media is changing the way we market businesses.
Now you have the ability to personalize your message and meet our customers face-to-face (virtually). Social media allows you to interact with your target audience directly and create an open dialogue that attracts the interest of potential customers. Leading Edge Communications offers a number of affordable and effective packages for businesses both small and large. It is not just about posting content. There are many ways to promote your message on social media. Our team would love to hear from you and is glad to answer any marketing questions you may have.

Here are some powerful social media platforms and how they benefit businesses:
Facebook Business Marketing in Nashville TN
Once seen as a place to keep in touch with old classmates, Facebook is becoming the premiere site for business marketing. Many businesses have a Facebook Page, yet may not have time to build up its following, share news, and manage it. Facebook is often used to refer and recommend businesses to others. The more interest your business gains on Facebook, the more exposure you receive.
Instagram Marketing
Instagram has gained significant ground and is now a major player in the social media arena. Yes, a picture can be incredibly powerful. Instagram is based on images and even supports videography. Instagram was acquired by Facebook in 2012 and ads may be placed on both platforms from Facebook. As of April 2017, the number of users reached 700 million. Instagram should be a component of most social media marketing campaigns.
Twitter Business Marketing
Twitter is so much more than a "mini-blog". These 140-character "tweets" have the potential to reach out to customers and get them excited about your brand. Through the creative use of "lists" and "re-tweets" your message spreads far beyond the reaches of more conventional marketing channels.
Using Google Plus to Market Your Business
Google Plus is a desirable place for businesses to promote their goods and services. Its integrated software is a favorite with techies and graphic designers, but the possibilities go much farther. When businesses are active in Google Plus, Google tends to display their posts in Google search, which can add significant Internet exposure. Additionally, having a solid Google Plus presence can boost a business's position in local search.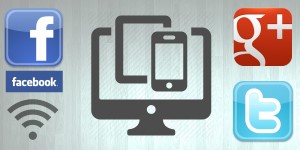 Pinterest Business Marketing
You may have thought that Pinterest was a place for crafters to share cute ideas, but according to research, wealthy women (and men) love to Pin. If your target audience is women with money to spend, you need to be on Pinterest and our marketing firm can help you gain vast exposure there.
Other Social Media Marketing Platforms: YouTube, Instagram, LinkedIn
There are several other social media websites that help increase the visibility of your business. LinkedIn allows you to connect with referral sources or direct customers and even set coffee appointments to meet in person locally. Other examples are YouTube and Snapchat. The key to success is to be diligent with your social media interaction and to post valuable content with graphics designed to wow your audience. That's where Leading Edge Communications comes in. Contact us today to see how we can build your Social Media presence, effectively position your brand, and communicate valuable messages to your target audience.
Have a question? Ask our Social Media Marketing team